The starter kit idea is nothing new under the sun, but I like it because it's not just a shameless consumerist plug for products. The starter kit is a sampling of items (some intangible) that say something about who you are. I invite other bloggers to join me. Comment with a link to the blog post where you do. I'm specifically tagging my friend Jackie here to encourage her to do a starter kit :)
Here's my starter kit for me, right now, April 2012.
SUGAR LIP TREATMENT SPF 15 by fresh
This is the greatest lip treatment known to mankind. I have it in my office and my bathroom and possibly my car. I am trying to live a more natural life. Also, I like to leave embarrassing smooch marks on Loverpants' face. So. I go through a lot of it.
***
The Return of the Prodigal Son: A Story of Homecoming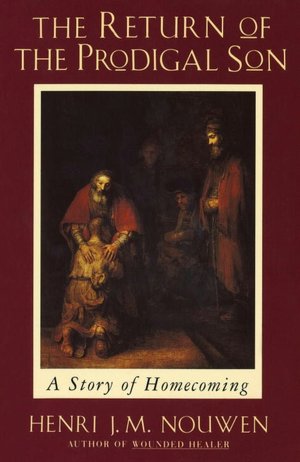 If you want to understand the place that I started on the spiritual path that I am on now, you need to read this book. I was never a prodigal. I was always the brother who remained. I followed all my parents' rules. I never squandered my fortune. I always thought God's love extended to me for my own righteous works and observance of the law. I never really understood the grace that God extended to me as a sinner, never understood what it was to come to God in faith until I read this book. I read it as a freshman in college when I first began to wander from the doctrine that I had formerly received as truth and this book helped to form the faith that continues to grow and be shaped by a God who really does care for us as a Father receiving His prodigal and rule-following children with equal parts love and compassion. Also, Nouwen's writing is immaculate.
***
New Balance Women's WR993 Running Shoe,Grey,9 B
I am on a weight loss journey right now. I am not happy in the land of obesity. I was in excellent shape before we moved to TN but my life here is significantly more sedentary than in Boston where I was involved in Baby Boot Camp and walking was more a part of the fabric of my life. I also keep getting injured in TN and I know that part of this is God telling me to stop being so hasty, but it's also been a detriment to my activity. I just bought some new running kicks, though, so hopefully I am on a smoother past to better fitness.
*** See Eyewear
My glasses are something of a penance since I would probably rather wear contact lenses most days but I skeeve the thought of touching my eyeballs. Cannot bring myself to do it. So I wear glasses and why not wear some Mad Men specs that are a constant conversation piece?
*** Frozen Yogurt Self-Serve Bars
I am an addict. You need to know this.
***
These cuties. I feel my purpose within this family is clear and therefore my purpose in the world is clearer. I am loved by this family and have come to know God because of these 3 blessings.
photo by Caressa Rogers  
So, that's a start. I could throw in a Bethany Dillon album, a view of the Boston Harbor, some crazy stockings, and an iPod full of The Moth broadcasts. But for now, I am eager to explore your own kits!